Which of turmeric's supposed properties are real? Is it really that effective? Symbeeosis team defines and shares its legendary power.
Turmeric is not only a spice that has been used for thousands of years in countries such as India and China, where it has been added to many traditional dishes and recipes for its sweet with a spicy and bitter flavour… From legendary times, it has been considered a therapeutic remedy by Ayurvedic medicine and traditional Chinese medicine. However, interest in this powerful spice is relatively recent in our western countries and it coincides with the discovery of its many properties by nutritional science that can be combined with our traditional knowledge.
Main properties of turmeric
– Anti-inflammatory and analgesic superpower: Turmeric has been called the natural ibuprofen, and certainly, we can consider it a very powerful anti-inflammatory and analgesic without the side effects of any other synthetic anti-inflammatory. This effect is produced by the action of curcuminoids (Curcumin, Demethoxycurcumin and Bisdemethoxycurcumin) that inhibit an enzyme called 5-lipooxygenase, responsible for triggering a series of inflammatory processes in the body as well as the enzyme cyclooxygenase-2, responsible for the formation of prostaglandins in the inflammatory process, among others.
– Anticancer properties: Curcumin inhibits metalloproteinases, responsible for tumor metastasis or expansion. It also inhibits BCL-2 and BCL-X1 proteins, which are activated in many tumors and prevent cells from entering apoptosis, a process that allows the death of the malignant cell.
– Intestinal permeability: It has a beneficial action on the intestinal mucosa and regulates the intestinal microbiota by increasing the amount of good bacteria for the body and reducing the population of harmful bacteria.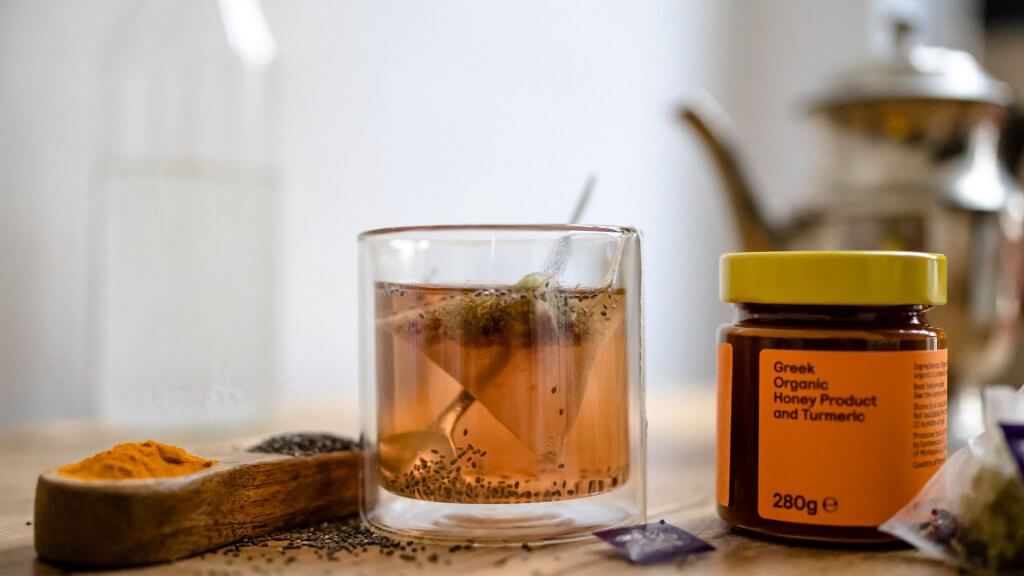 – Antioxidant: It increases the activity of superoxide dismutase and catalase enzymes, offering protection against oxidative stress.
– Liver protector: Turmeric increases bile flow, reduces hepatotoxicity and improves liver function, helping in the treatment of fatty liver and other liver diseases.
– Cardiovascular health: Turmeric improves endothelial function, resulting in improved blood flow and blood vessel lining.
– Skin diseases: It helps in the treatment of diseases such as skin cancer by inhibiting DNA oxidation in the epidermis or psoriasis.
Scientific evidence can be found here
A recipe for the summer
It is not always easy due to its strong flavor and its high pigmenting power, therefore, we propose you to consume it in a delicious and powerful antioxidant and anti-inflammatory infusion that combines the power of mountain tea, dry ginger root extract and honey.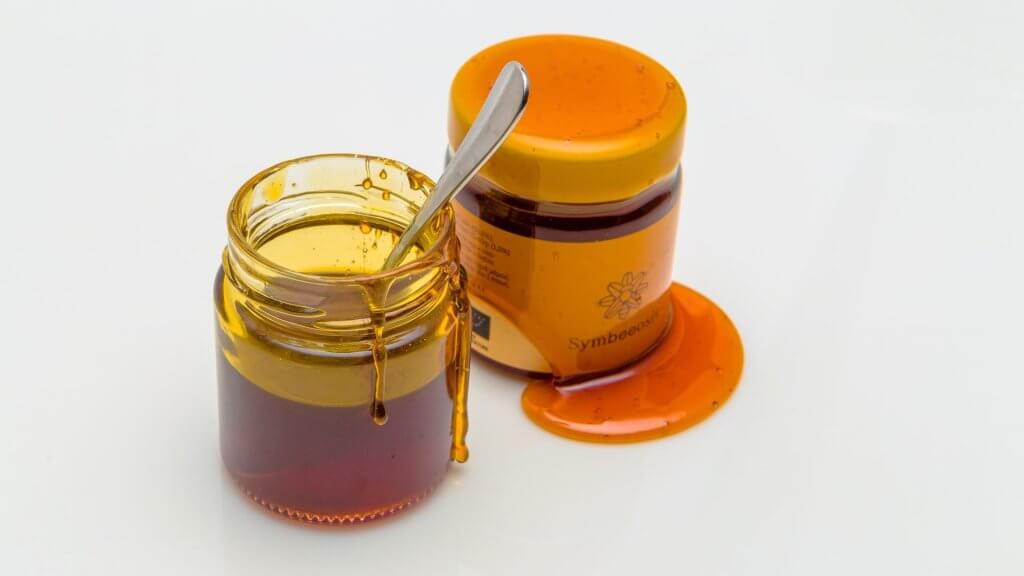 Follow these simple instructions:
        – Place a pyramid of Symbeeosis Greek Organic Mountain Tea with Ginger in a cup and pour 200 ml. Of water at 90º.
        – Add a teaspoon of Greek Organic Honey with Turmeric.
– Add a few drops of lemon, which will provide vitamin C.
– Use ice to make it cold for the summer days.